Should I Buy or Lease?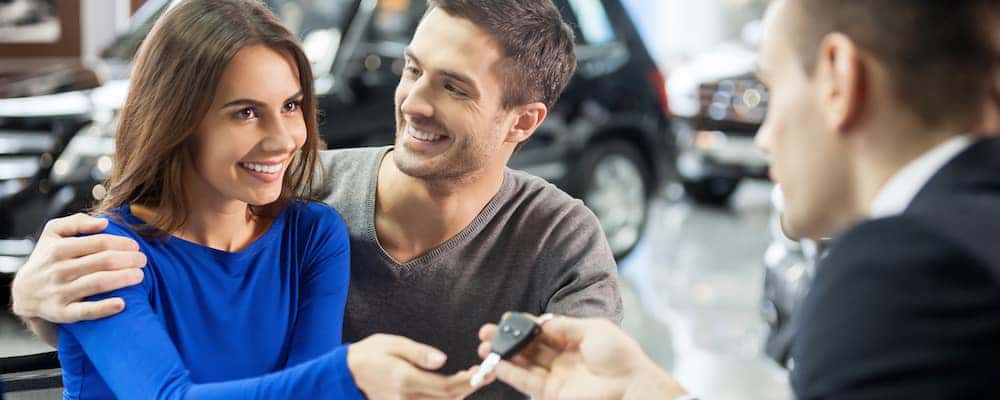 Deciding which financial path to take is an important part of buying a new car for your Bastrop commutes. Figuring out which works best for you is in the question of leasing vs, buying. Both offer unique benefits, but the decision ultimately comes down to your individual needs, wants, and what you can afford. Read on to discover the benefits of leasing and financing, so you know what you want when you visit Sames Bastrop Chrysler Dodge Jeep Ram.
Benefits of Buying
No Mileage Restrictions: Driving a lot between Cedar Creek and Giddings may be better for buying. When buying, you don't have the limitations of mileage restrictions, should you can drive as much as you please.
Total Ownership: When you buy a vehicle, it's completely yours. You have no restrictions or limitations on modifications or decorations.
Customization: Like tinkering with the look of your car? Buying rather than leasing allows you to make cosmetic and mechanical changes or upgrades to whatever you like. You can easily craft the car of your dreams when buying.
Ability to Sell: Without being locked into a lease agreement, you can easily opt to sell your vehicle whenever you choose to do so.
Financing Options: Leasing isn't a huge undertaking, but car financing is much more straightforward, and open to those with less than great credit. Buying also allows you to refinance your loan, allowing for lower interest rates and monthly payments.
Less Cost Over Time: Upfront, buying will cost more. Over time, however, it is more cost effective as you start paying off your loan. The vehicle will become less expensive to own the longer you have it.
Benefits of Leasing
Lower Payments: From down payments to monthly payments, leasing a vehicle will lower these costs.
Less Sales Tax: You'll generally have much lower sales tax rates in most states. In select areas, only the amount you put forth for the down payment and the monthly payments are taxed.
Trade-Ins: After the lease agreement ends, getting your next leased vehicle is ane easy process. Just visit Sames Bastrop Chrysler Dodge Jeep Ram, pay off remaining fees, and take your new vehicle home to Del Valle.
Great Coverage: Maintenance and warranty coverage is simple when leasing. Any issue that arises under your warranty, and within your mileage limit, is covered.
Options: Stay up-to-date with technology and the newest models with ease when leasing. You'll have a wide array of options and can easily find the model and features that fit you.
High Approval Rate: While some may be denied for a car loan, getting approved for a lease is even easier. Those with poor or no credit can even be approved.
Get Leasing and Financing Help at Sames Bastrop Chrysler Dodge Jeep Ram
Keep in mind that the decision between leasing and financing is a a personal one, and there is no clear choice for everyone. What works for you may not work for others. Explore all of our Chrysler, Dodge, Jeep, Ram lease and finance offers and head over to our dealership near Bastrop when you find your next vehicle. If you have any questions, want to discuss finance options, or want to learn more about car financing or used car leases, please don't hesitate to contact us today! We want to help you learn about everything from Jeep Gladiator pricing and our used Jeep Cherokee inventory to lease and finance deals.
More From Sames Bastrop Chrysler Dodge Jeep Ram
The 2020 Jeep Wrangler remains the rugged classic that can climb hills and kick up the dust off-road, but it's no longer the uncomfortable bare-bones vehicle of the past. With comfort features, the latest in driver technology, and loads of interior cargo space, the new Wrangler can get you comfortably off-road from Bastrop or make…

What is the RAM 3500 towing capacity? The 2019 RAM 3500 is arguably the most powerful pickup truck you can get. It handles the heaviest equipment and the toughest, most critical jobs in the Bastrop area with your choice of two available engine options, and strength to handle tens of thousands of pounds. Need RAM…

It didn't take long for the 2020 Jeep Gladiator to make waves across Bastrop and Giddings, and drivers all over are looking for specs and pricing info. Are you looking to learn more about the available Jeep Gladiator engines? Sames Bastrop Chrysler Dodge Jeep Ram is here to help! Learn all about 2020 Jeep Gladiator horsepower, towing capacity, mpg, and…